June 21st, 2008 by Classic Charms in
New Products
;
No Comments »
;
Share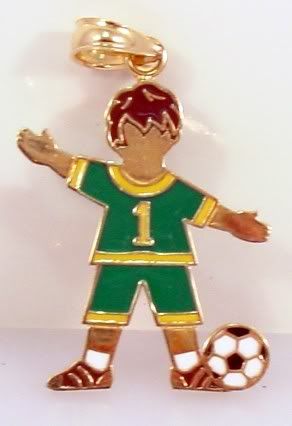 Charms and Charm Bracelets have been around for hundreds of years, as fashion changes, so do charms. At Classic Charms, we are proud to bring you the latest fashion forward charms, showing more enamel and color on the charms.
Recently Rembrandt Charms has re-made many of their charms and introduced many new styles to their collection. As many of you know, Rembrandt is synonymous with attention to detail, quality craftsmanship, and beautiful works of art on that adorn many charm bracelets. Some of their existing charms have been updated to show more detail and now, what many of our customers have asked for – color! This passport charm is a definite to add to your travel charm bracelet. If you love music, check out their adorable MP3 Player Charm, which looks so cute with the enamel on it, or brand new to the collection is the Rainbow charm, perfect for the graduate.
We have recently added many new 14K Gold Enamel Charms to our collection. If you are a Movie enthusiast –
be sure to check out our Box of Popcorn, created in 14K Gold with Enamel, or how about a plate of Sushi, created in 14K Gold? Some can't live without that first stop at Starbucks cup of coffee in the morning; now add it to your
bracelet, in 14K Gold.
If your son (or daughter) is of sports mind – our new enamel charms for the sports kids are two-sided enamel, so they are perfect for charm bracelets. Be sure to check out these adorable enamel cheerleader charms. Enamel sports charms available for most sports – call us and ask if your sport is available!
Special occasions such as birthdays can't be forgotten on your charm bracelet! New to the collection – Birthday Boy and Birthday Girl Charms are a great way to remember your special day. Of course you cannot forget mom and all she has done for you with a Best Mom Ribbon Charm to show her how great you think she is!
June 12th, 2008 by Classic Charms in
New Products
;
No Comments »
;
Share
As many of you are familiar with the design of "The Kids" charms. Rona originally created them with four personalities in mind: Hugs, Love, Kiss, & Joy. All kids have their own unique personalities, and so do "The Kids"! These kids were
originally created in only 14K Gold with various positions for their arms and legs. If you don't already have a Rona K Kids charms, be sure to check out the many options for them. Rona has added new kids to the original collection.The original collection was created in "layers", meaning that the body of the child was one layer of gold, and then you would add a dress or shirt, then a hat or a bow, so the kid would look dimensional.
This is a fully customized kid Charm, so that you can choose what color hat (or bow), Dress (or Shirt, Body Color and Body Style you want – with diamonds, without. Rona added many options over the years, to really make this a custom charm, from diamonds, to birthstones, to pets and hearts. Contact a Classic Charms Associate to assist you to build your custom made Rona K Kid charm – you will be the envy of all the other Mom's in the neighborhood!
Rona's new collection of kids is one layer and uses a unique laser finish on the kids to show the dimension of clothing.
These charms are elegantly crafted charms that are modern and timeless. The four styles (hugs, kisses, love, & joy) allow you to express your child's personality on your charm bracelet!
All of these kids are now available in Sterling Silver, Gold-Plate, 14K Yellow Gold or 14K White Gold, so this great collection fits any budget from $30 – over $300. Rona also added personalities to these kids, including graduation kids, kids with pets, kids in bathing suits, and various types of clothing.
In addition to the new Kids Collection, the long awaited "The Cuddles" Kids have arrived. Choose from Cuddles Girls or Cuddles Boys Charms. You will see the same detail, the same quality and the same unique personalities in the "The Cuddles" Kids as you grew to adore with her original collection. The new line of charms is available in Sterling Silver, Gold-Plate, 14K Yellow Gold or 14K White Gold, to suit any budget from $30 – $200.
June 3rd, 2008 by Classic Charms in
New Products
;
No Comments »
;
Share
I had the great honor of accompanying Rona K of Rona K Corp to the Facets of Hope Dinner honoring the 10th anniversary of Jewelers for Children Organization at the Venetian Hotel during the annual JCK Jewelry Show. This dinner was hosted by two honorees (Allen Brill – Rolex Watch USA and Peter Engel – Fred Meyer Jewelers). Both gave amazing speeches about how this industry has such heart and gives back to the children in need. The speeches left many teary-eyed, as special guests, young children, who JFC had helped with financial support, came to the stage to share their special, unique story of survival, only because of St Jude's Hospital and the monies given by this room full of Jewelers with a heart.
Jewelers For Children was founded in 1999 by the U.S. jewelry industry with the mission of helping children in need. Since its inception, JFC has donated nearly $28 million to programs benefiting children whose lives have been affected by illness, abuse, or neglect through charity partners St. Jude Children's Research Hospital, the Make-A-Wish Foundation, the Elizabeth Glaser Pediatric AIDS Foundation and the National CASA Association. This nationwide success is due to the continuing generosity of jewelry trade organizations, jewelry and watch manufacturing companies, jewelry retail stores, individual jewelry professionals, and jewelry consumers. JFC also provides support to the Starlight Starbright Children's Foundation, the Jason Program, the Association of Hole in the Wall Camps, Autism Speaks and the Santa-America Fund.
What shined through at this event was not only the number of attendees (2,500 in all), but each and every company represented here had donated thousands of dollars to children in need without hesitation. The cost for this gala event was $500 per person to attend, with the entire amount going to the charities that JFC supports.
During the annual JCK Jewelry show, Rona K has introduced a new line of kids, the long anticipated "The Cuddles" kids. This is a must for any Mom, or Grandma's Charm Bracelet. Be sure to stop by and visit our showroom, where you will be able to view the collection, now available in Sterling Silver, Gold-Plate or 14K Yellow or 14K White Gold. For those that know "The Kids", this addition gives your "Kids" so much personality, charm, and dimension!
Rona created a very special lapel pin with the JFC logo and the "`10 Years" represented on the kids clothing and donated this lapel pin to each attendant of the gala event. Rona also donates her very special "The Kids" 14K Gold Kid Charms to the kids at St Jude's Hospital to give to their Mom's as gifts.
Raffle tickets were sold during the evening for $20/ticket, with the entire amount donated to the charities that JFC supports. Many companies donated prizes to be raffled at the end of the evening, ranging from Rolex Watches, Phillip Stein Diamond Studded Watches, Special Limited VW Bug Car, a 7 day Caribbean Princess Cruise, Tour of Yankee Stadium, and many others fabulous items. I was fortunate enough to be one of the winners (I won the Diamond Studded Philip Stein Watch)